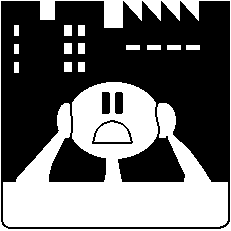 FOURTH INTERNATIONAL MULTIDISCIPLINARY CONFERENCE ON
ACOUSTIC VIOLENCE
Rosario, Argentina, 22 al 24 de octubre del 2001
Centro Cultural "Bernardino Rivadavia"
San Martín 1080
2000 Rosario
Argentina
First Announcement
The Fourth International Multidisciplinary Conference on Acoustic Violence will take place at the Centro Cultural "Bernardino Rivadavia", Rosario, Argentina, on October 22-24, 2001. The event is organized by the Scientific Interdisciplinary Ecology and Noise Committee of the Asociación de Logopedia, Foniatría y Audiología del Litoral (ASOLOFAL), and is sponsored by the Municipal Government of Rosario, as well as several scientific and academic organizations.
Main subjects:
- Social Acoustic Violence, Acoustic Violence affecting the natural environment, urban areas, education facilities and workplace.
- Interdisciplinary aspects related to health hazards due to Acoustic Violence.
- Legal aspects of preventative action against Acoustic Violence.
- Technical resources in the prevention, abatement and control of noise.
- Noise cost.
The Conference will develop in lectures, panels, technical sessions, poster sessions and audio-visual sessions.
CALL FOR PAPERS
The scientific and technical community is invited to submit papers, which may be sent in digital format by e-mail to the address fmiyara@fceia.unr.edu.ar or, in case the file exceeds 2 Mbytes, on CD-Rom to the regular mail addres cited below.
The following file formats will be accepted: pure text with diacritics (.TXT), .RTF, .HTM, .HTML, Word 6, Word 97 (.DOC), StarOffice. Multimedial presentations are also to be admitted in en formats such as PowerPoint 97 or any other self-contained. Sound files in .WAV or .MP3 formats will also be accepted.
IMPORTANT NOTE: Papers will be accepted on or before August 15, 2001.
The official language of the Conference is Spanish but translating service will be available on request.
For more information, please contact:
ASOLOFAL
Ref: Cuartas Jornadas Internacionales Multidisciplinarias Sobre Violencia Acústica
Bv. Oroño 1187, 1º I
2000 Rosario
Argentina
Tel: (0341) 4631849 / (0341) 4557969
Tel/FAX: (0341) 4488771
or by electronic mail:
E-mail: fmiyara@fceia.unr.edu.ar